SPECIALTY
Residential & Commercial Concrete Contractor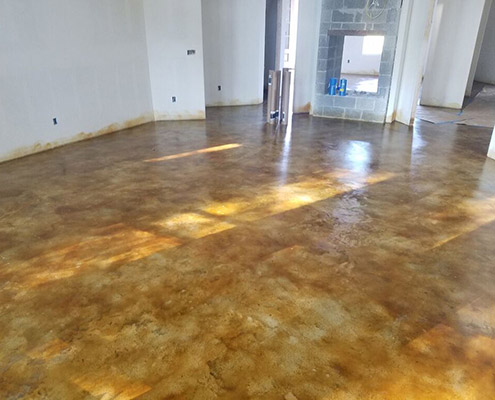 Staining and Overlays
Concrete Restoration is a growing field in the concrete construction industry. Staining, engraving, and overlays are typically used for concrete restoration projects. Often our clients have concrete that is in good condition and doesn't need to be removed to be improved. If the client decides they wish to restore their existing concrete (as opposed to removing and replacing it), the concrete can potentially be stained, engraved, or a combination of the two.
Concrete Staining can bring a plain floor to life. Concrete stain is a topical color placed on the concrete which either embeds itself or reacts with the surface to show color. Our concrete stains are UV-stable and perfect for both interior and exterior use. A single concrete stain—or a combination of multiple stains—can be used on a concrete floor, and both new and old concrete can be stained.
Concrete engraving is the process of scoring lines up to 1/4" deep in an existing concrete. The dull gray concrete is transformed into a beautiful work of art that compliments its surroundings.
There are a variety of patterns to choose from — or we can complete a customized design for our clients. Engraving is typically used on basement floors, patios, driveways, and sidewalks.
Concrete Overlays are typically used over existing concrete if the client wishes to have a new look without replacement and wants a textured pattern.
Concrete overlays are thin, polymer-modified, cement-based toppings applied over existing concrete. Often concrete overlays are stamped in a pattern and texture to give the look of cobblestone, slate, or any stamp pattern we offer. One thing to note about overlays is that the existing concrete must be in decent condition because any imperfections on the existing slab will eventually affect the overlay in the same manner.
Water Based Dye and Epoxy: this stain is used for either hard troweled or broom finished concrete slabs, used with both interior and exterior projects.
Brickform Reactive Stain – Acid Based Stain: This reactive stain is used for hard troweled concrete floors.
GRINDING AND POLISHING
Concrete polishing is a decorative concrete service which takes either freshly-placed concrete or existing concrete floors through a sequence of steps to create a floor that is tough, durable, and relatively maintenance-free.
Mostly found in commercial establishments, polished concrete can also be used in residences to finish basement floors, garage floors, or interior slabs on grade. Polished concrete can also be used with the staining process to create unique decorative floors which are one of a kind.
Some of the major benefits of polished concrete include:
Very low maintenance requirements and fees compared to other flooring options such as carpet, wooden floors, and VCT.
Lower installation and finishing fees compared to similar flooring options such as terrazzo.
Decorative elements can be easily integrated to create unique floors.
Polished concrete creates a glossy floor, creating more reflected light and reducing the amount of light fixtures needed in a building or room.