RESIDENTIAL
Residential & Commercial Concrete Contractor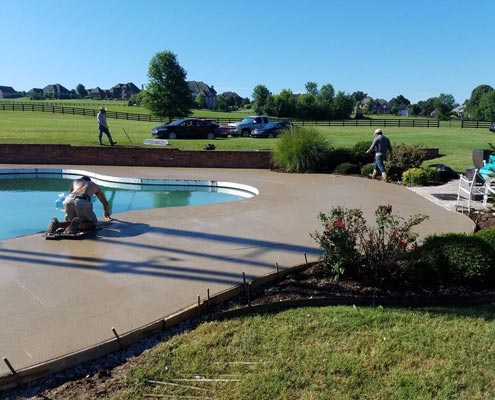 FLATWORK DRIVEWAYS, PATIOS, SIDEWALKS
Our general concrete flatwork services are for the client who needs a simple broom-finished or hard-trowel finished concrete slab without any decorative elements.
Residential services include:
Stamped Concrete
Driveways
Sidewalks
Pole Building Floors
Garage Floors
Patios
Porches
STAMPED CONCRETE
Stamped concrete is a strong, durable, and long-lasting concrete slab that incorporates decorative elements. The process involves combining color with the concrete and imprinting it with a textured pattern while it is still in its plastic state.
Stamped concrete is very popular among homeowners, and is often used for driveways, patios, porches, and sidewalks.
Stamped concrete is also used widely in the commercial market on the interior and exterior of restaurants, malls, and hotels.
We are masters of this craft. We also have a vast selection of stamp patterns, textures, and colors for our clients to choose from. We also offer our clients design help with colors, patterns, and borders prior to the start of the project to ensure their project is unique and fits well within its surroundings.
Solomon Liquid Pigment – Concrete Base Color: This liquid color is the base color for your stamped concrete project. It mixes consistently throughout to produce consistent color throughout the slab.
Legem Powdered Release – Antiquing Color: This release is a powdered pigment placed over the concrete while stamping to provide color in the joints and crevices.
FOUNDATIONS AND LIGHT EXCAVATION
We have all the necessary equipment to excavate foundations per your plans, install all required reinforcing, and place concrete foundations for your home. We have also offered light excavation services for many years, and utilize backhoes, Bobcats, and dump trucks to handle a variety of excavation projects.
CONCRETE WALLS
Cast-in-place concrete walls are services we specialize in for residential clients. Whether you need a sitting wall next to your new patio, or a retaining wall to hold a mountain back, we can help. We work with many different wall-building materials and have completed numerous projects in the surrounding area.