GRINDING

&

POLISHING
Residential & Commercial Concrete Contractor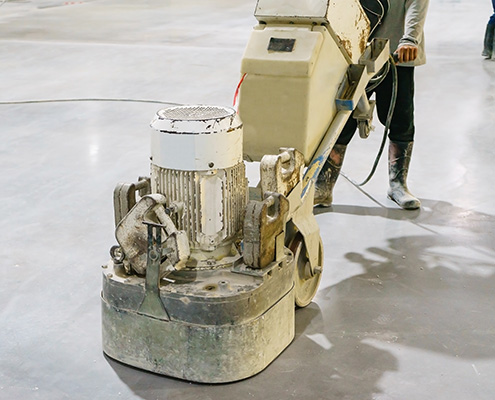 Concrete polishing is a decorative concrete service which takes either freshly-placed concrete or existing concrete floors through a sequence of steps to create a floor that is tough, durable, and relatively maintenance-free.
Mostly found in commercial establishments, polished concrete can also be used in residences to finish basement floors, garage floors, or interior slabs on grade. Polished concrete can also be used with the staining process to create unique decorative floors which are one of a kind.
Some of the major benefits of polished concrete include:
Very low maintenance requirements and fees compared to other flooring options such as carpet, wooden floors, and VCT.
Lower installation and finishing fees compared to similar flooring options such as terrazzo.
Decorative elements can be easily integrated to create unique floors.
Polished concrete creates a glossy floor, creating more reflected light and reducing the amount of light fixtures needed in a building or room.