COMMERCIAL
Residential & Commercial Concrete Contractor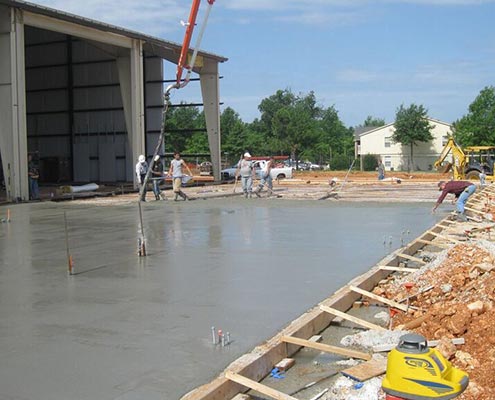 FLATWORK
Commercial and residential services are what our corporation is founded upon.
Commercial services include:
Warehousing Facilities
Retail and Offices
Educational
Governmental
Concrete Paving
We have ACI-certified flatwork finishers and technicians, and can easily handle projects ranging from sidewalks to million square-foot warehouses.
By using sound materials and construction practices that follow national concrete standards, we have created many long-lasting relationships with our clients who trust in our ability to provide top notch projects.
FOUNDATIONS
We offer foundation excavation and installation for commercial clients of all sizes. When our clients use us as their sole concrete contractor, it streamlines the construction process. We can handle many projects small and large projects alike, including warehouses, hotels, department stores, offices, and convenience stores.
We have all the necessary equipment to excavate foundations per your plans, install all required reinforcing, and place concrete foundations for your building. We also offer backfilling and site grading along with this service as necessary. Our foremen in the field are detail-oriented and skilled in reading construction blueprints in order to layout building foundations.
EXTERIOR CONCRETE PAVING
Slabco is highly experienced in all types of exterior concrete paving, specializing in driveways, loading pads, and even entire parking lots. We have installed many different types of concrete paving featuring a variety of designs, and pay strict attention to slopes, construction, and control joints.
SITE CONCRETE FLATWORK
We have completed hundreds of thousands of square feet of site flatwork, from sidewalks and stairs to patios, aprons, and dumpster pads. Our experience includes small handicap ramp repairs to sidewalks and driveways for entire communities. Site Concrete Flatwork is one of the areas where we can help you gain valuable time on schedule as we can produce great results in a timely manner. We look forward to helping you on your next project.
CONCRETE WALLS
Modular block retaining walls and cast-in-place concrete walls are services we specialize in for commercial clients. Whether you need a sitting wall next to your new patio, or a retaining wall to hold a mountain back, we can help. We work with many different wall-building materials and have completed numerous projects in the surrounding area.
EXCAVATION
We have offered light excavation services for many years, and utilize backhoes, Skidsteers, and dump trucks to handle a variety of excavation projects.